What is the WDRP?
The Wharton Directed Reading Program (WDRP) is a pre-doctoral advanced study opportunity within the Wharton Doctoral Programs (WDP), providing undergraduate students with a steppingstone for an honors thesis as well as an early-stage preview of graduate study for those students who are interested.
WDRP pairs undergraduate students with Wharton doctoral students for a semester-long guided reading and independent study project. Undergraduates interested in research in business academia will receive focused guidance and mentorship from an emerging expert in the field.
Click here to learn more about our nine academic areas, representing a broad range of business disciplines and knowledge that you can explore in the WDRP. You may be surprised to discover the research that Wharton faculty and doctoral students pursue.
Message from the Vice Dean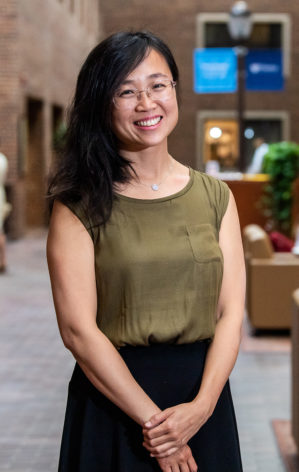 To truly explore a subject, you need to be self-driven but also have the 1-to-1 guidance of an expert in the field. You need to immerse yourself in hours of independent reading and then have someone to discuss. You need a role model who has, not too long ago, also wrestled with the same material. At Wharton Doctoral Programs, we seek to provide such a scaffold for young researchers to grow.
– Wharton Doctoral Programs Vice Dean and Director, Professor Nancy Zhang
What is expected of mentees and mentors?
There are no restrictions on choice of topics, and mentors will be assigned based on mutual interests of the undergraduate students (mentee) and the graduate students (mentor).
At the beginning of the semester, the mentor will work with the mentee in setting the scope of learning. The mentor selects reading material and drafts a reading plan, taking into consideration the current research in the field as well as the mentee's interests, background, and preparation for study. The mentee is expected to work independently for about 4 hours a week to complete and digest the assigned reading. The mentor will meet with the mentee once per week, for about an hour, to provide feedback and clarify concepts.
At the end of the semester, there will be a symposium where the mentee will give a presentation to show what they have learned. The symposium will be open to all participants in WDRP as well as invited guests of the mentees.
Undergraduate participants will be registered for a pass/fail half-credit independent study course from their mentor's department, so that their achievement in WDRP can be reflected on their transcript.
Apply
The Spring 2023 application is now closed. The application for Fall 2023 will open in the summer. 
We seek students who are in good standing who have completed basic coursework in their area of interest. The ideal candidate is a junior or a sophomore in advanced standing, with curiosity and a desire for independent learning.
We particularly encourage applications from students who are underrepresented in doctoral programs in business research – women, first-generation college students, and students who identify as underrepresented minorities.
For questions, please contact Maggie Saia or Gidget Murray, Directors, Wharton Doctoral Programs.
Wharton Directed Reading Program Scholars & Research Projects