Wharton prepares you to become an academic leader. Our PhD graduates have gone on to excel at leading academic institutions, research centers, and enterprises around the globe.
Working with Wharton's faculty, you are trained in the practices of rigorous research. You learn how to frame questions from a multi-disciplinary perspective through exposure to the broadest range of business knowledge. This breadth and depth of thinking yields new ideas, and scholars who break new ground in their selected area of research.
You leave Wharton ready to contribute meaningfully to your field, typically having published with your faculty mentors prior to graduation. Most Wharton doctoral graduates take positions at leading academic institutions, and many alumni continue working with their Wharton mentors and colleagues, returning to Wharton for conferences and colloquia throughout their careers.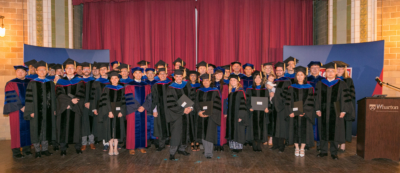 Student Placements
Here's a list of placements, by program and year of graduation, over the past 10 years:
Applied Economics
2023
World bank
Post doc at NYU Furman center.
Treasury's Office of Financial Research.
UT Dallas
National University of Singapore
2022
Brattle Group
University of Wisconsin Business,  Post Doc at Treasury
Brattle Group
Cornerstone Research
Rutgers Business School
Cornerstone Research
2021
OECD
Federal Reserve Board
NYU, Postdoc and Hong Kong University
Princeton, Postdoc
2020
University of North Carolina, Chapel Hill
University of Texas, Austin
Bank of Canada
NBER, Postdoc
2019
Stanford University
Cornerstone
The Vanguard Group
2018
Michigan State
Federal Reserve Bank of New York (Post-doc at Chicago Booth)
London School of Economics
2017
Cornell University
Microsoft Research
NERA Economic Consulting
University of Colorado, Boulder
2016
Econ One
Harvard Business School
National Taiwan University
Nuna Health
Toulouse School of Economics
University of California, Merced
2015
Baruch College
Clemson University
Northwestern University
Putnam Investments
Research Affiliates
2014
Consumer Financial Protection Bureau
Duke University
Indiana University
University of Delaware
University of Wisconsin, Madison
2013
Berkeley Research Group
University of Michigan
U.S. Treasury Department
Sungkyunkwan University, SKK GSB
Note: The Applied Economics program was created in Fall 2008 and, therefore, has placed students beginning 2013.
Finance
2023
BlackRock
Cornerstone Research
Drexel University, LeBow College of Business
Harvard Business School
Rothschild & Co
2022
BlackRock
Boston Consulting Group
Columbia Business School
Kenan-Flagler Business School of the University of North Carolina
McGill University
MIT Sloan
Universidad Carlos III de Madrid
University of Hong Kong
2021
Capital One
Stockholm School of Economics
2020
Arizona State University
Hong Kong University of Science and Technology
University of Florida
University of Warwick, Warwick Business School
2019
BI Norwegian Business School
INSEAD
London Business School (2 placements)
Peking University
University of Hong Kong (2 placements)
2018
Carnegie Mellon University
Cornell University
Cornerstone Research
Peking University
Southern Methodist University
University of Wisconsin, Madison
2017
AQR Capital Management
Carnegie Mellon University, Tepper School of Business
Citadel
Tulane University, Freeman School of Business
University of Chicago, Booth School of Business
University of Southern California, Marshall School of Business
2016
Federal Reserve Bank of New York
University of Michigan
University of North Carolina, Chapel Hill
2015
Boston College
Cornell University
Federal Reserve Board
Michigan State University
Ohio State University
University of Houston
2014
Google
University of California, Los Angeles
University of Delaware
University of Minnesota
University of Oxford
2013
Google
University of Delaware
2012
Mingshi Investment Management
Peking University
Southern Methodist University
2011
Carnegie Mellon University
University of British Columbia
University of North Carolina, Chapel Hill
University of Rochester
University of Wisconsin, Madison
2010
Cornell University
Getulio Vargas Foundation
Southern Methodist University
U.S. Securities and Exchange Commission
University of Southern California
2009
New York University
University of Florida
2008
Cornerstone Research
KAIST (Korea Advanced Institute of Science and Technology)
University of Iowa
University of Minnesota, Twin Cities
2007
Aalto University School of Economics
University of California, San Diego
2006
Federal Reserve Board
Health Care Management & Economics
2018
Charles River Associates
Baylor University
Cornell University Medical Campus (Weill)
University of Miami
USAID
Emory University
Securities and Exchange Commission (SEC)
2017
Harvard Business School
New York University
University of Pennsylvania, Perelman School of Medicine
NYU Langone Medical Center
Analysis Group
2016
University of Virginia
Northwestern University, Kellogg School of Management
RAND Corporation
University of Pittsburgh
Analysis Group
2015
Indiana University Bloomington
John Hopkins Bloomberg School of Public Health
University of Pennsylvania, Perelman School of Medicine
US Department of Health and Human Services
2014
Asian Development Bank
RAND Corporation
2013
RAND Corporation
2011
Cornell Medical School
RAND Corporation
Thomas Jefferson University
University of Pennsylvania, Perelman School of Medicine
Urban Institute
2010
RAND-UCLA (Joint Post-Doc)
San Diego State University
Temple University, Fox Business School
2009
Columbia University
Peking University
Urban Institute
US Army Medical Department Telehealth Office
2008
Bill and Melinda Gates Foundation
Brigham and Women's Hospital
University of Pennsylvania, Perelman School of Medicine
2007
Massachusetts General Hospital
2006
University of Missouri
University of Porto, Faculty of Economics
Management
2019
Bocconi University
Ohio State University
University of Southern California, Marshall School of Business
Rice University
New York University, Stern School of Business
Massachusetts Institute of Technology
2017
George Washington University
University of Texas, Austin
2016
University of Illinois at Urbana-Champaign
University of North Carolina, Chapel Hill
Sungkyunkwan University
2015
Cornell University
Stanford University
2014
University of Texas, Austin
University of Wisconsin, Madison
2013
IESE Business School, Barcelona Campus
University of LUISS (Rome)
2012
INSEAD
Purdue University
University of North Carolina, Chapel Hill
University of Pittsburgh
University of South Carolina
University of Texas, Austin
2011
George Washington University
University of North Carolina, Chapel Hill
University of Washington, Bothell
2010
Georgia State University
Moscow School of Management, SKLOKOVO Institute for Emerging Market Studies
Nanyang Business School
Rutgers University
2009
George Washington University
Harvard University
INSEAD
University of Maryland, Smith School of Business
University of Minnesota, Carlson School
Washington University, St. Louis
2008
New York University
University of Hartford
2007
Instituto De Empresa
University of Michigan
2006
Brigham Young University
Florida International University
National University of Singapore
New York Department of Economics
University of Illinois-Urbana Champaign
Operations, Information and Decisions
Statistics
2019
University of Florida
Carnegie Mellon University
Columbia University
Rutgers University
2018
Massachusetts Institute of Technology
The Voleon Group
2017
University of Chicago, Booth School of Business
University of California, Berkeley
Emory University
Rutgers University
Citadel
Air Liquide
2016
INSEAD
Massachusetts Institute of Technology, Sloan School of Management
University of Vienna
DV01
2015
CLVmetrics
IBM
Stanford University
2014
Carnegie Mellon University
Columbia University
Queens College
Rice University
Walmart Labs
2013
Columbia University
New Jersey Institute of Technology
Yahoo Labs
2012
The Climate Corporation
Credit Suisse
Rutgers University
University of North Carolina, Chapel Hill
2011
Krossover Intelligence
Stanford University
2010
Northwestern University
US Census Bureau
2009
Harvard University
Princeton University
University of Pennsylvania
2008
London School of Economics
Massachusetts Institute of Technology
2007
Colombia University, Earth Institute (Post-Doc)
2006
Yale University